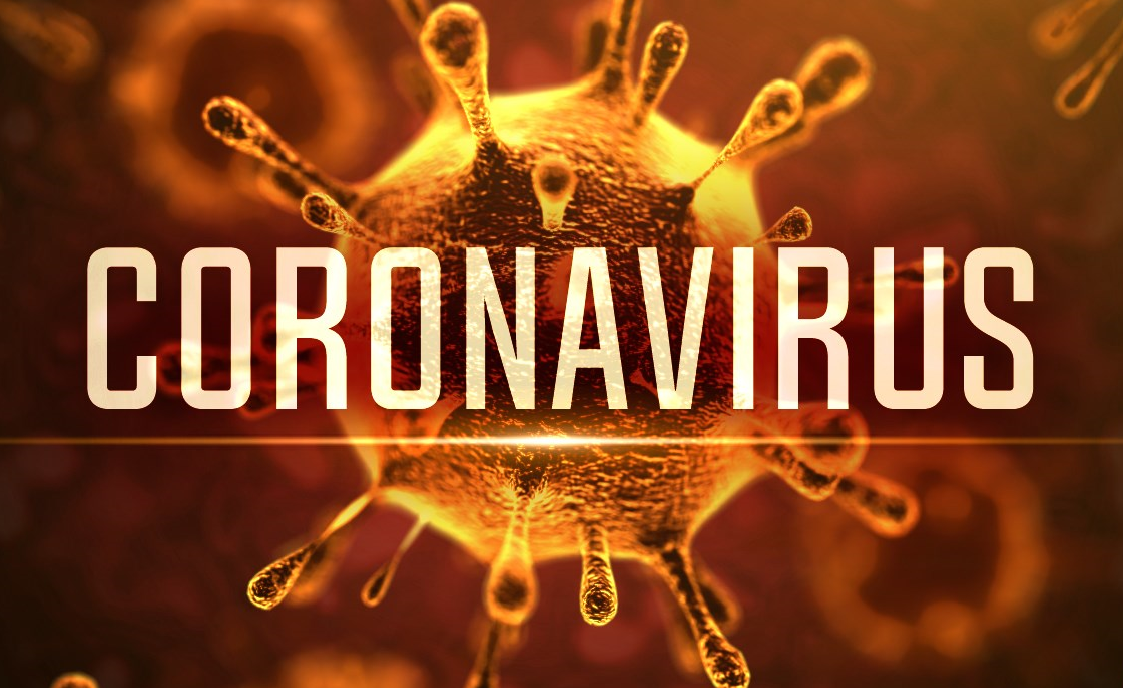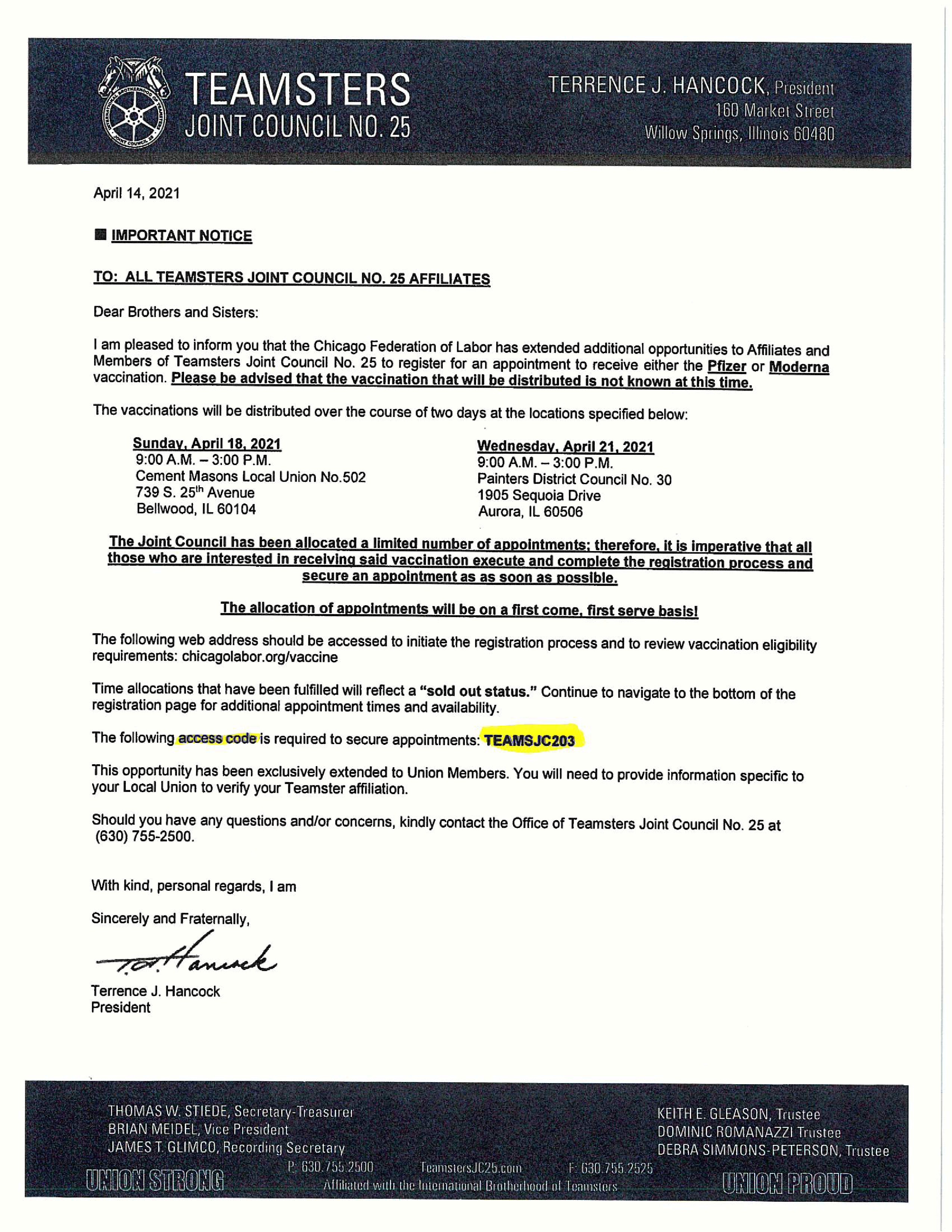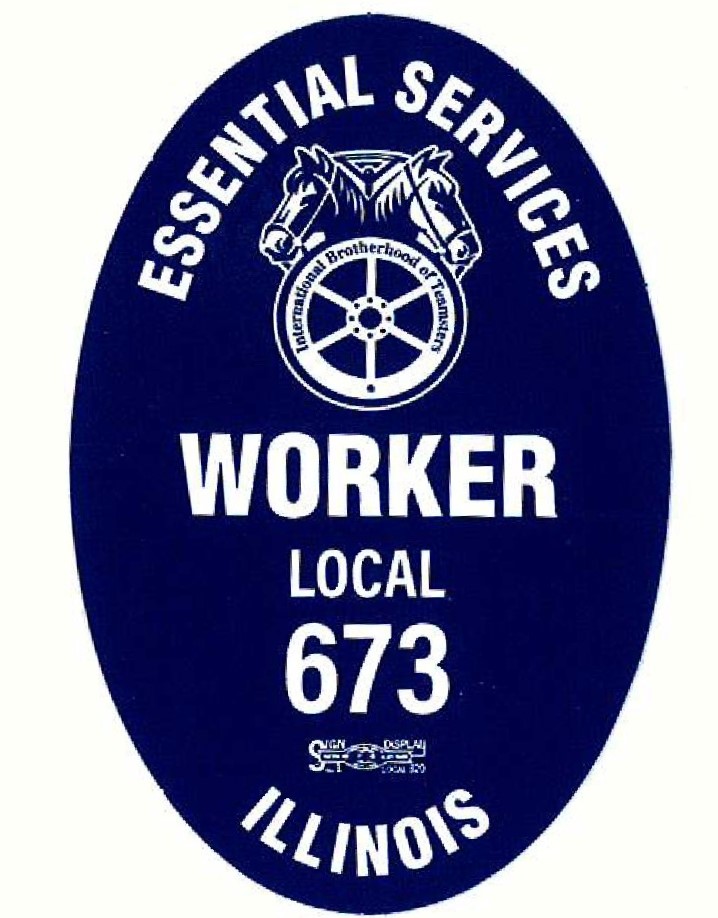 Local 673 has requested from companies what precautions they are taking for the safety of our Members in accordance with the guidelines from OSHA & the CDC and what safety items they are supplying to our Members that are required to work during this current situation. Local 673 Members safety is the highest priority during this pandemic, please use all precautions while working to remain safe and healthy. As this situation continues to change we will keep you informed.
The Local will remain open but will be CLOSED to visitors beyond the vestibule. Dues payments and other business will be conducted at the window inside the vestibule. For Members safety only ONE PERSON AT A TIME will be allowed inside. Please call the Local or your Business Agent with any questions you may have. Stay safe Brothers and Sisters.
A big THANK YOU to our "Essential Worker" Brothers and Sisters!! To see them in action click HERE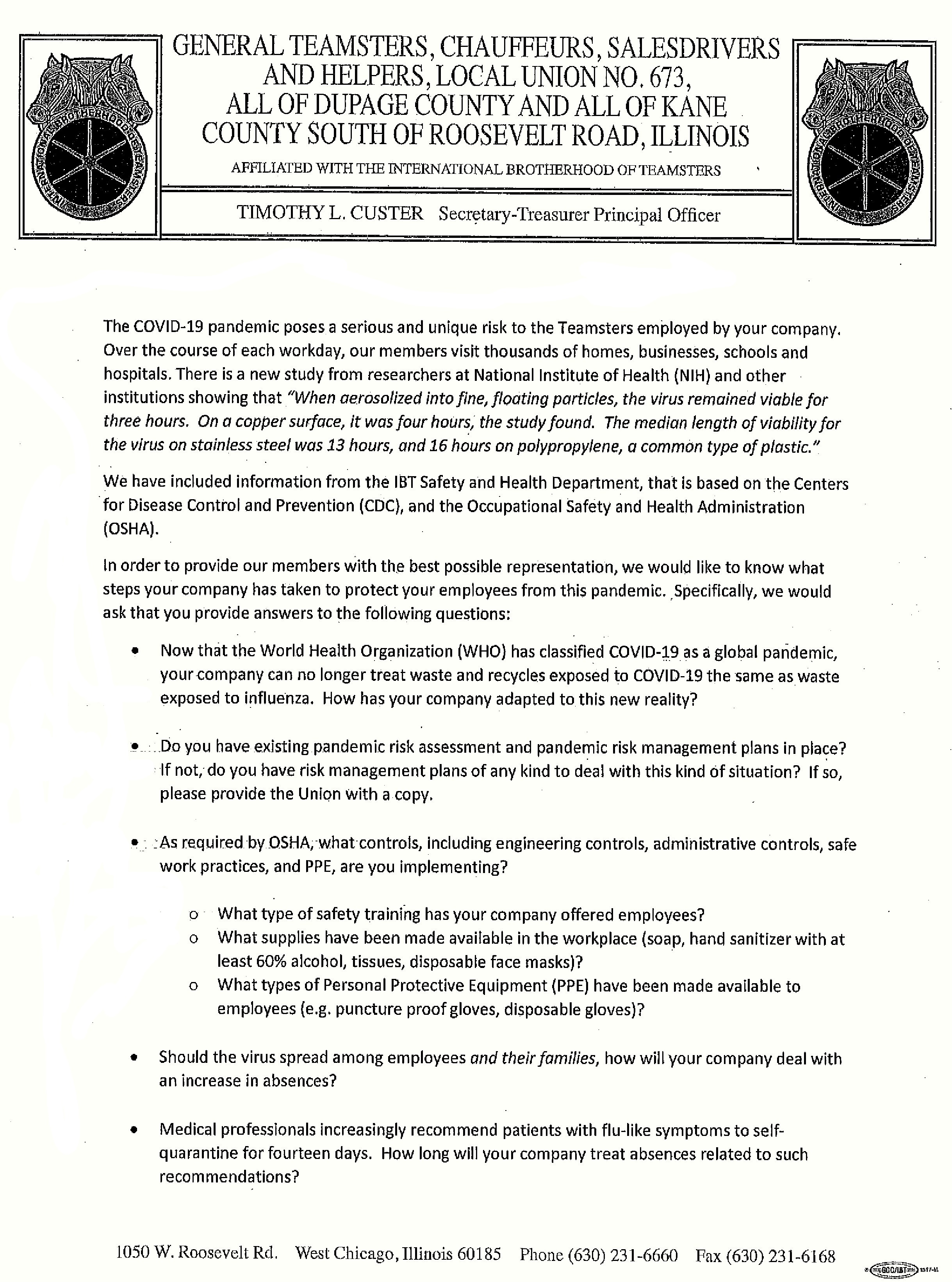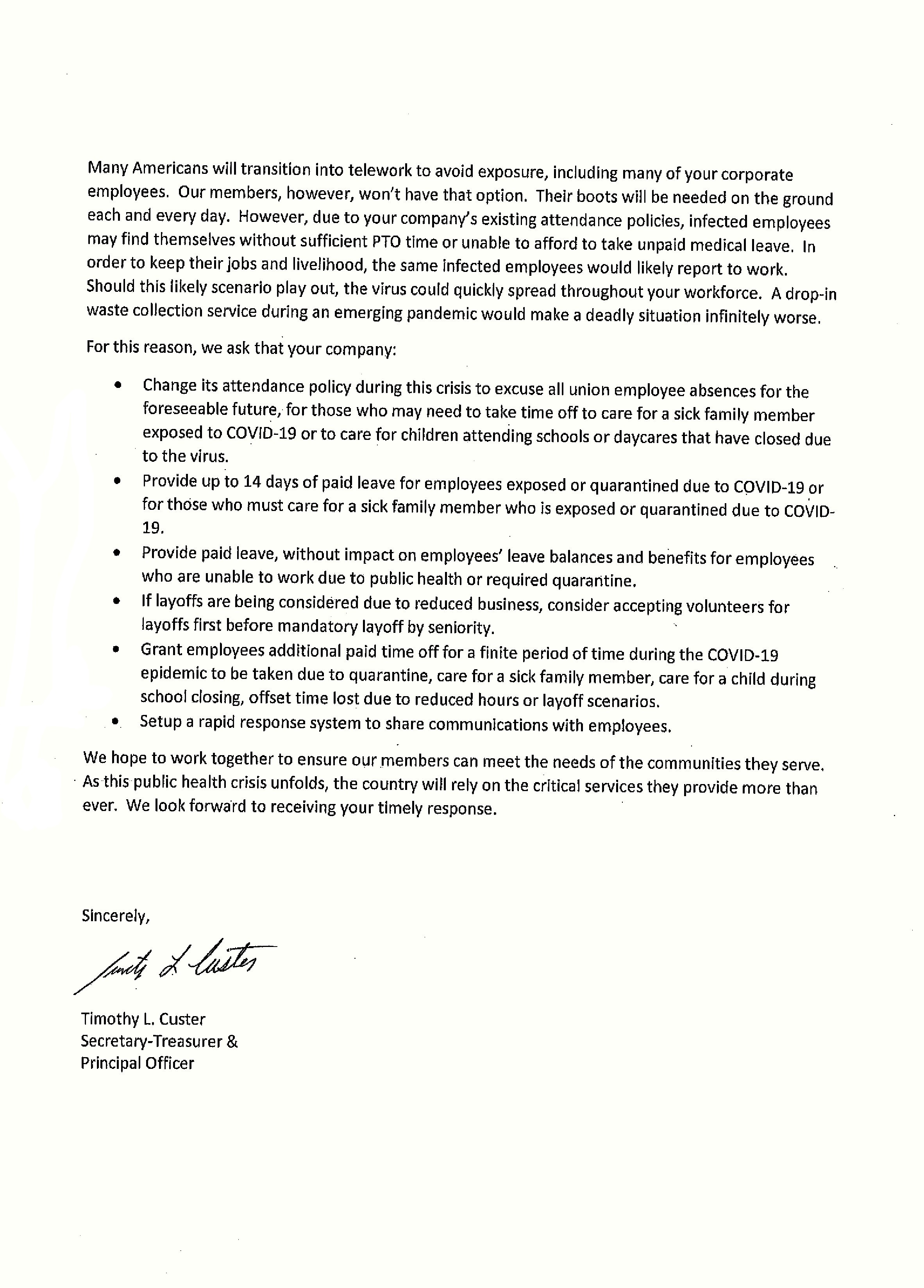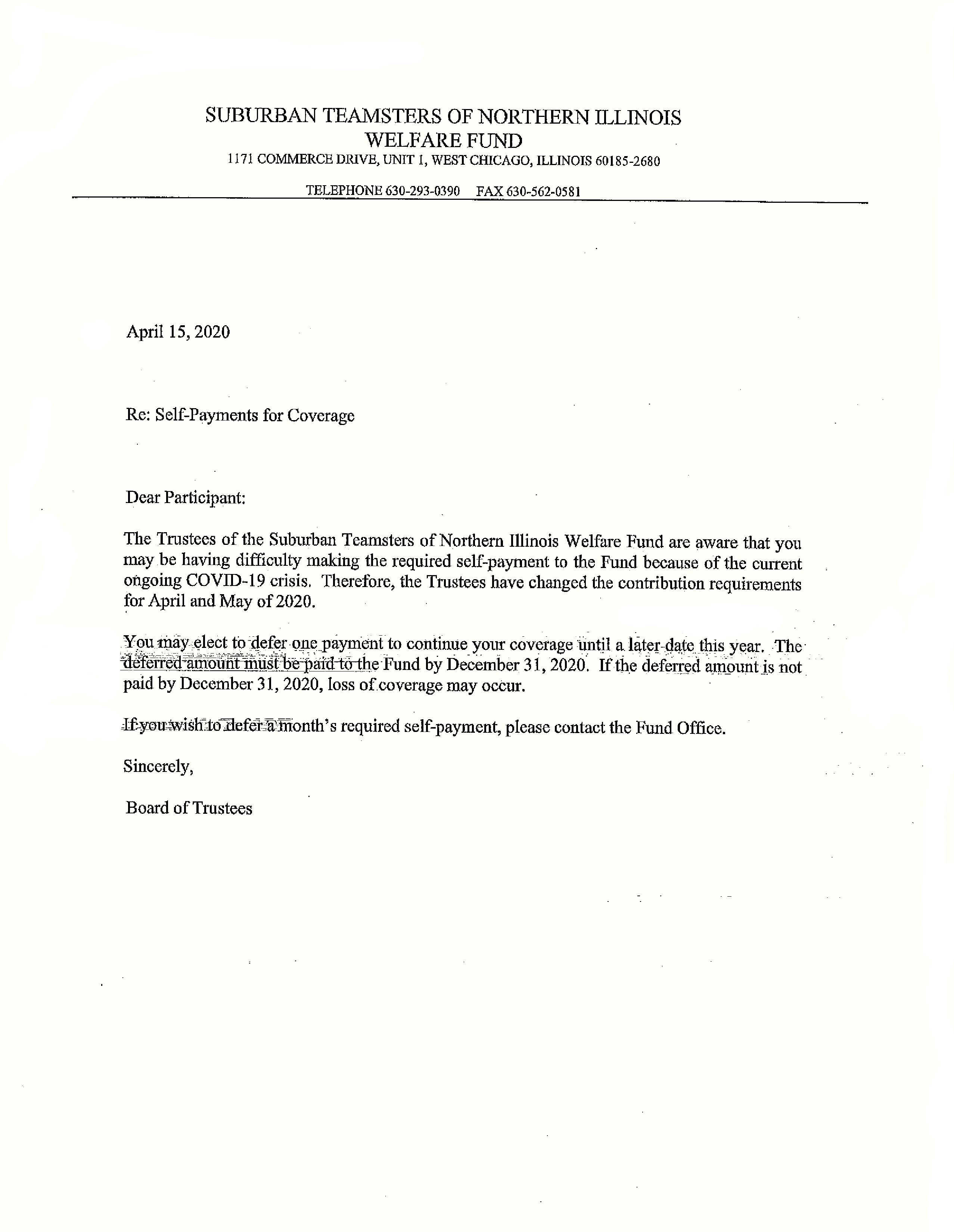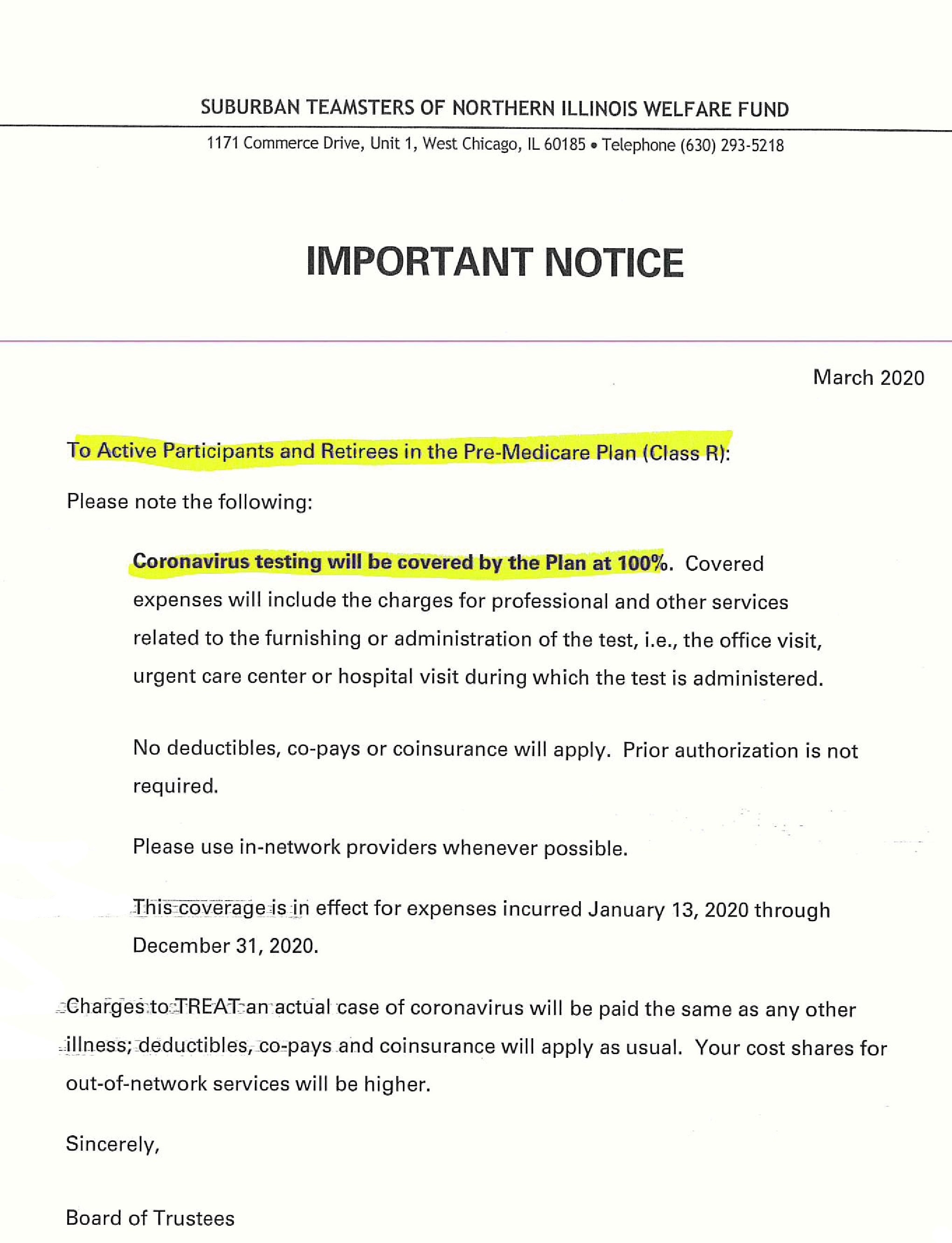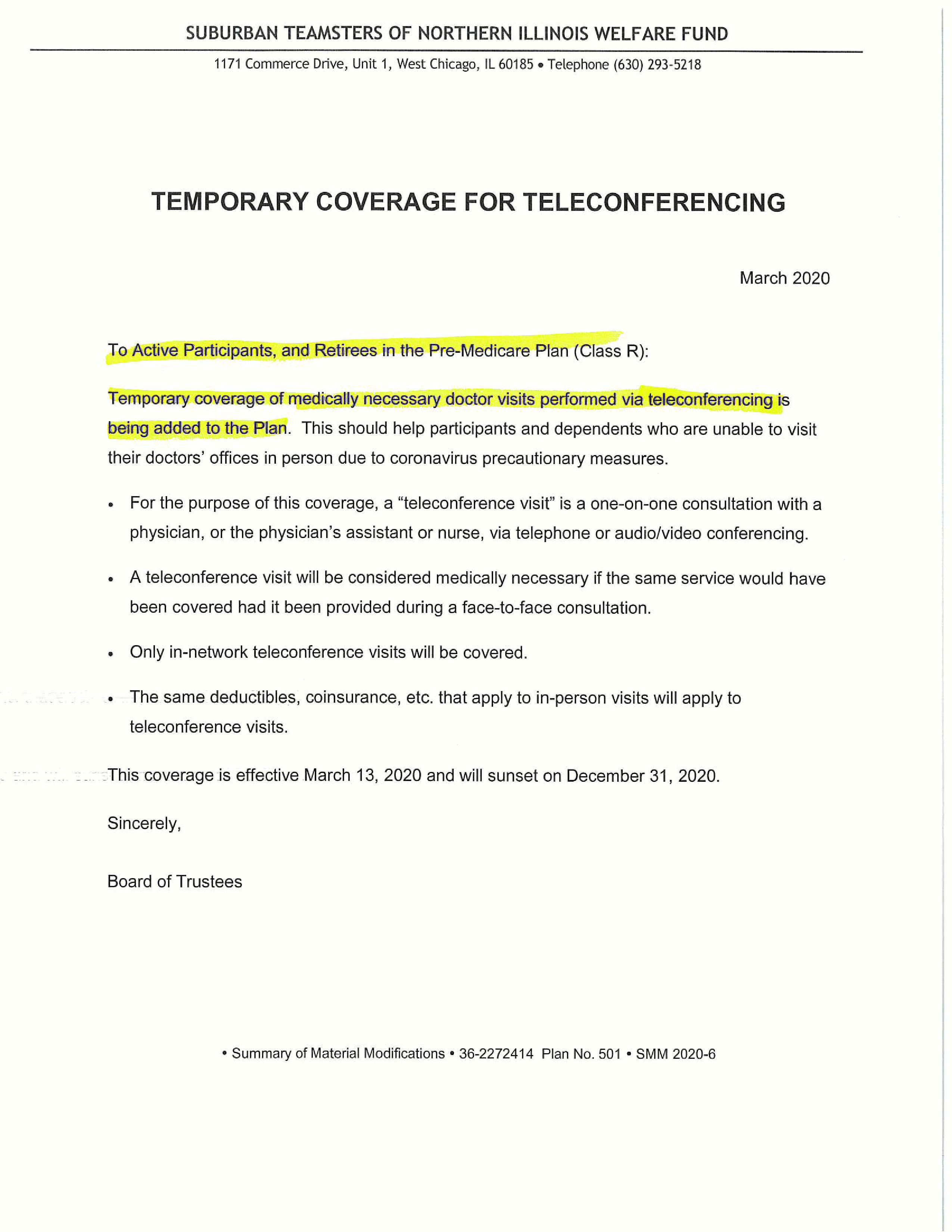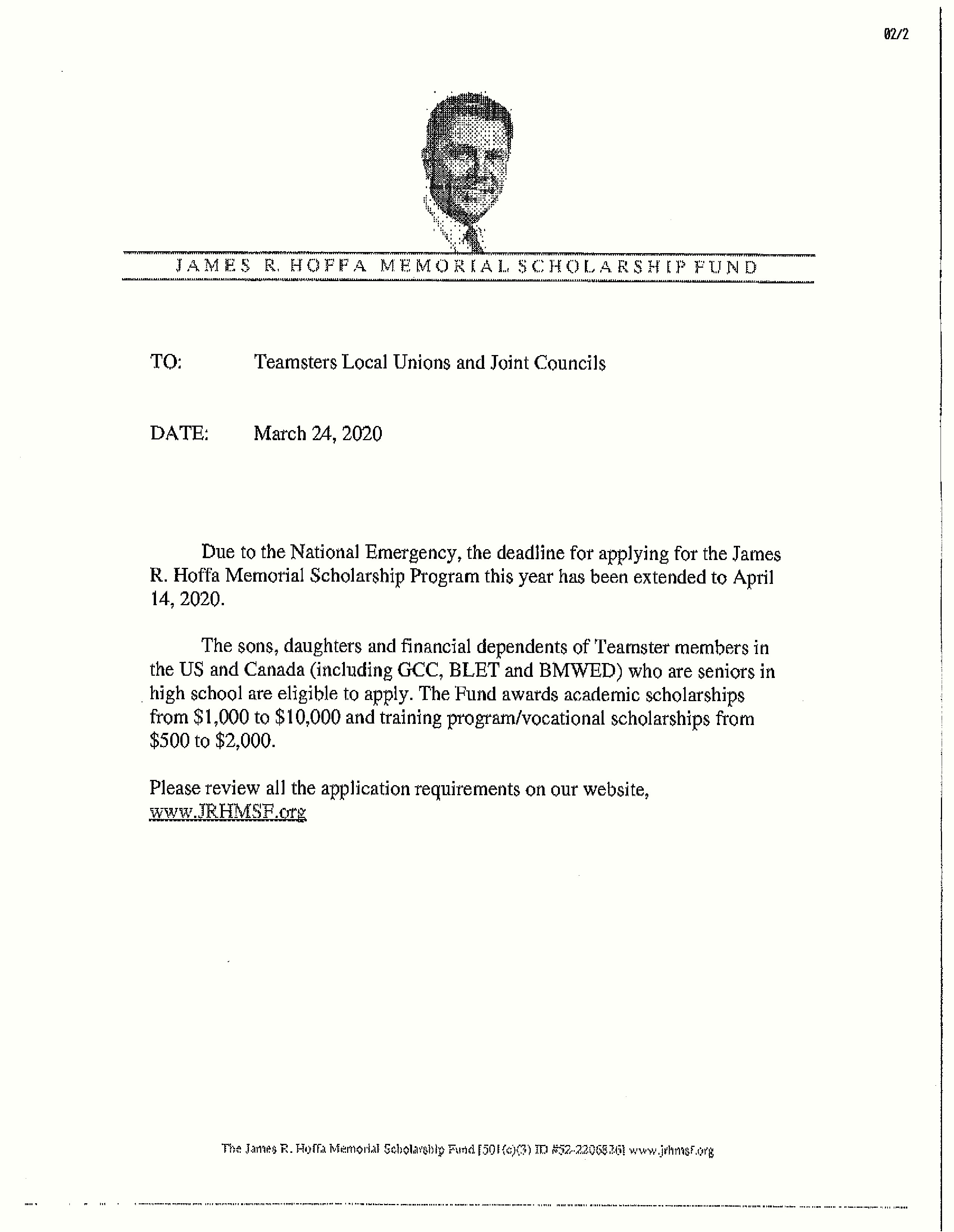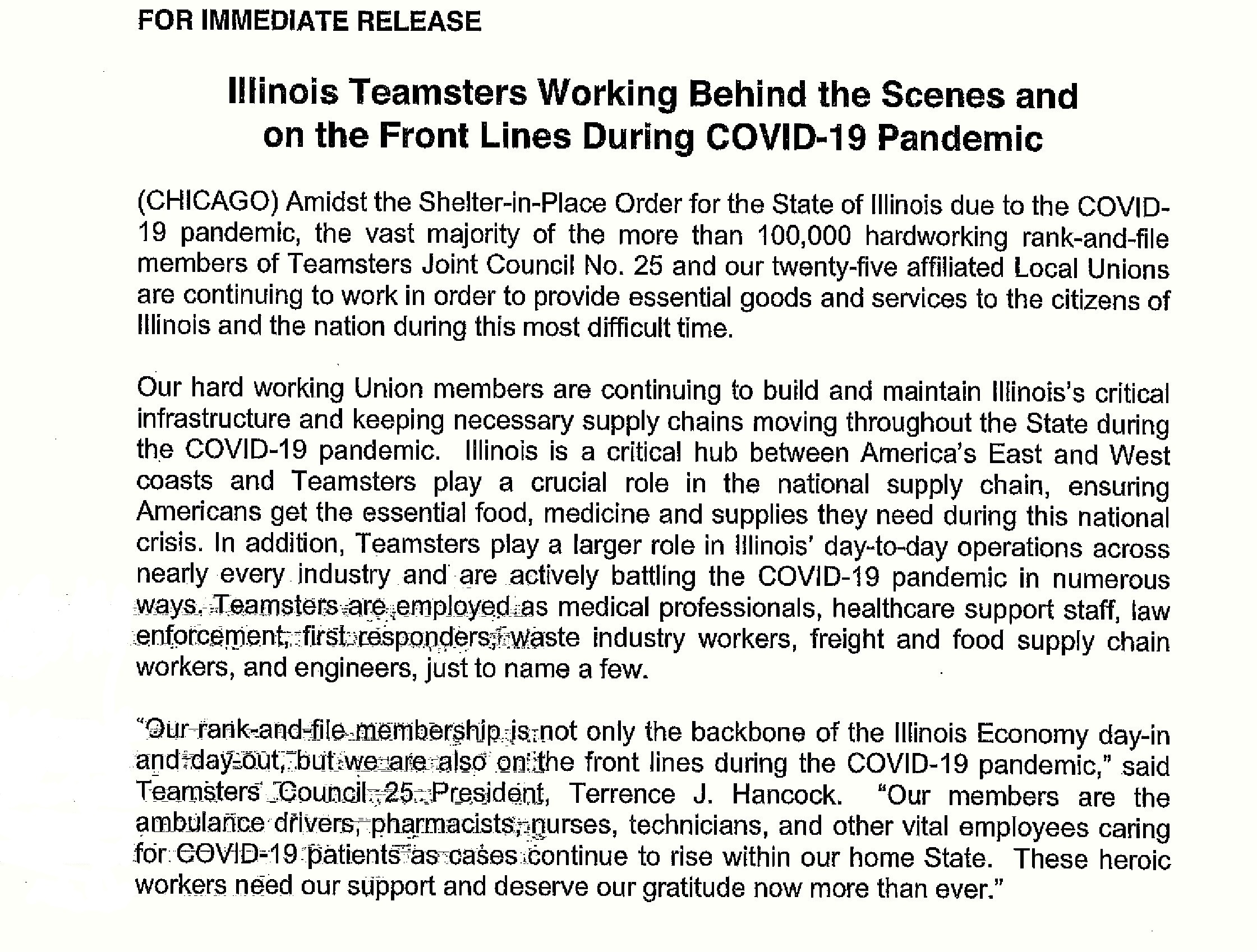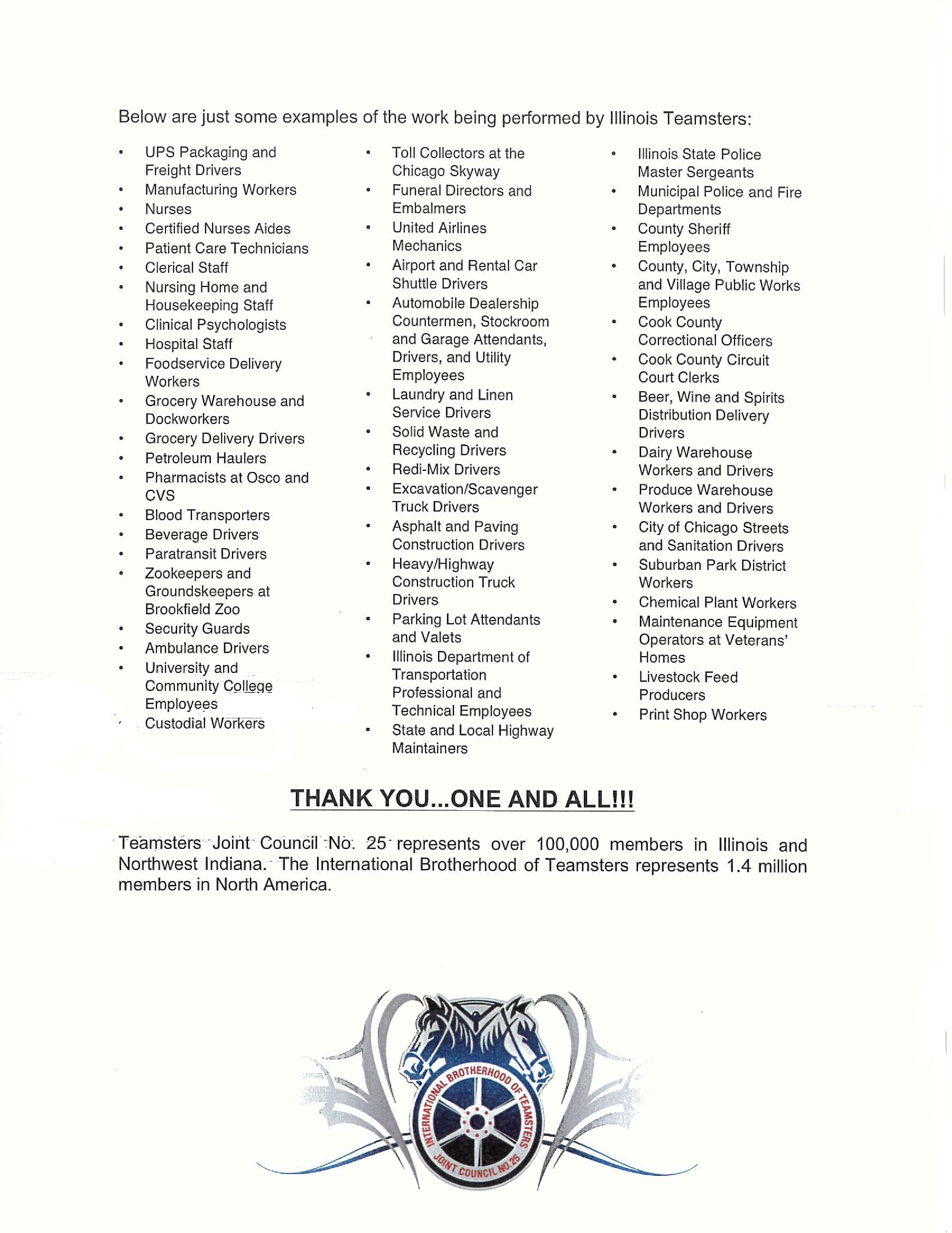 For a statement on the Coronavirus Pandemic from your International Union click HERE
Pepsi negotiations have been postponed, for a statement from the Brewery & Soft Drink Conference click HERE
**MEMBERS!! MOVING?? HAVE YOU MOVED??**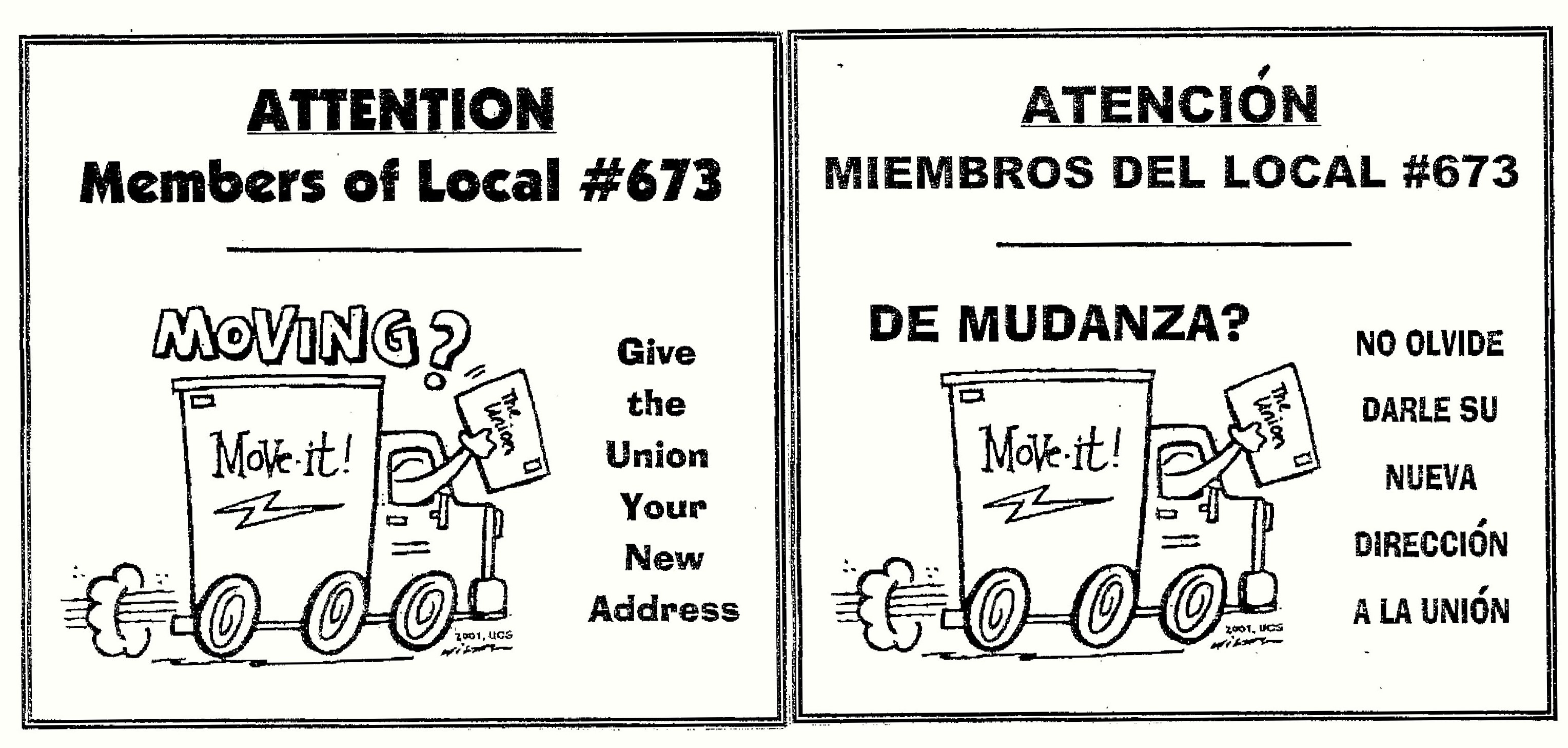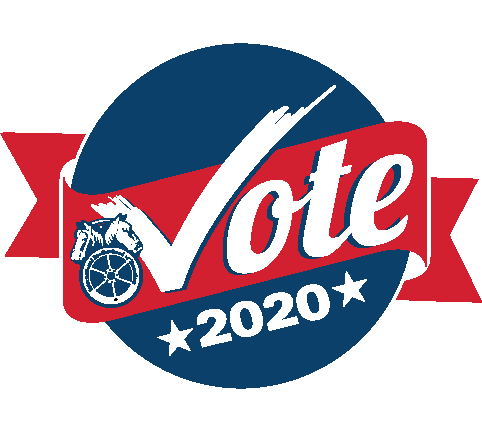 TEAMSTERS 2020 PRESIDENTAL SURVEY
Teamsters have a lot at stake in the 2020 Presidential Election. Tell us what YOU think are the most important issues for the Teamsters Union in this election.
ATTENTION MEMBERS!!
PENSION IS NOW IN THE GREEN ZONE!!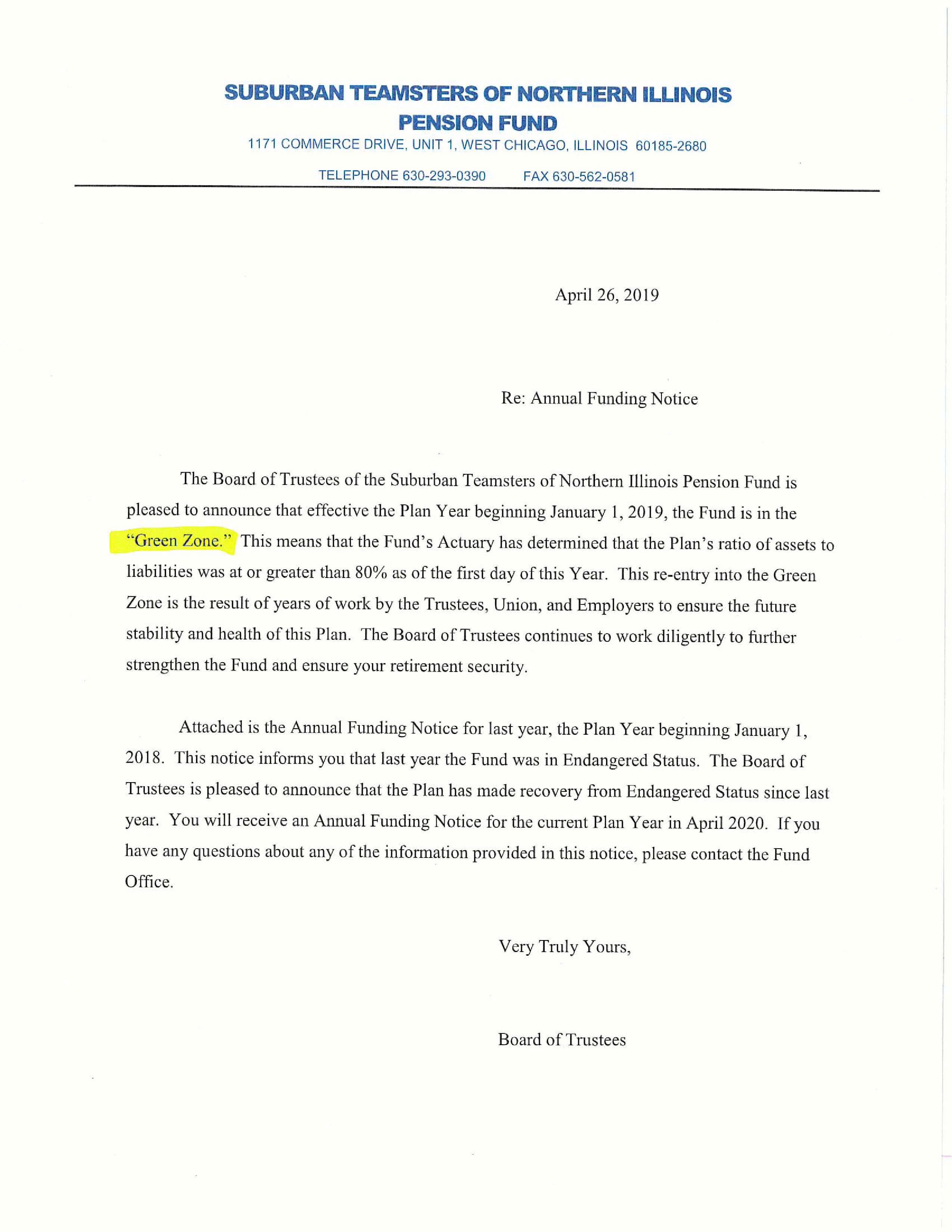 Locals 179 and 673 win wage theft lawsuit filed in 2015 against FIRST STUDENT!!
400 members will be receiving checks!
CLICK HERE FOR ARTICLE
LOCAL 673 WINS TRI-PARTITE ARBITRATION!!
In the matter of:
Acuity Brands Lighting, Inc. , Juno Lighting, LLC.
and
Teamsters Local 673 General Teamsters, Chauffers, Sales, Drivers & Helpers, I.B.T.
and
Chicago and Midwest Regional Joint Board, Workers United, S.E.I.U.
An arbitration was held on September 4th, 2018 in Chicago, Illinois. At hand was who would represent the workers at the MWDC Plant that was to relocate from Hanover Park to DesPlaines, Illinois.
With the closing of the facility in Hanover Park, all of 673's current members were to relocate to the DesPlaines facility. With an addition of approximately 60 new employees by February 2019 to operate the new MWDC facility.
On October 10th, 2018 Teamsters Local 673 was awarded to preform the distribution and warehouse work which will be performed at the employers DesPlaines, Illinois facility!
Local 673's Executive Board and Agents are dedicated to growing your Local and would like to welcome the new Members coming in from the previous Union.
No court decision can stop Teamster public employees' commitment to country and community. In the wake of last week's Janus decision, we will remain unified to protect the progress we have achieved for our members and their families!
www.teamster.org/standing-strong
#WeRise #UnionStrong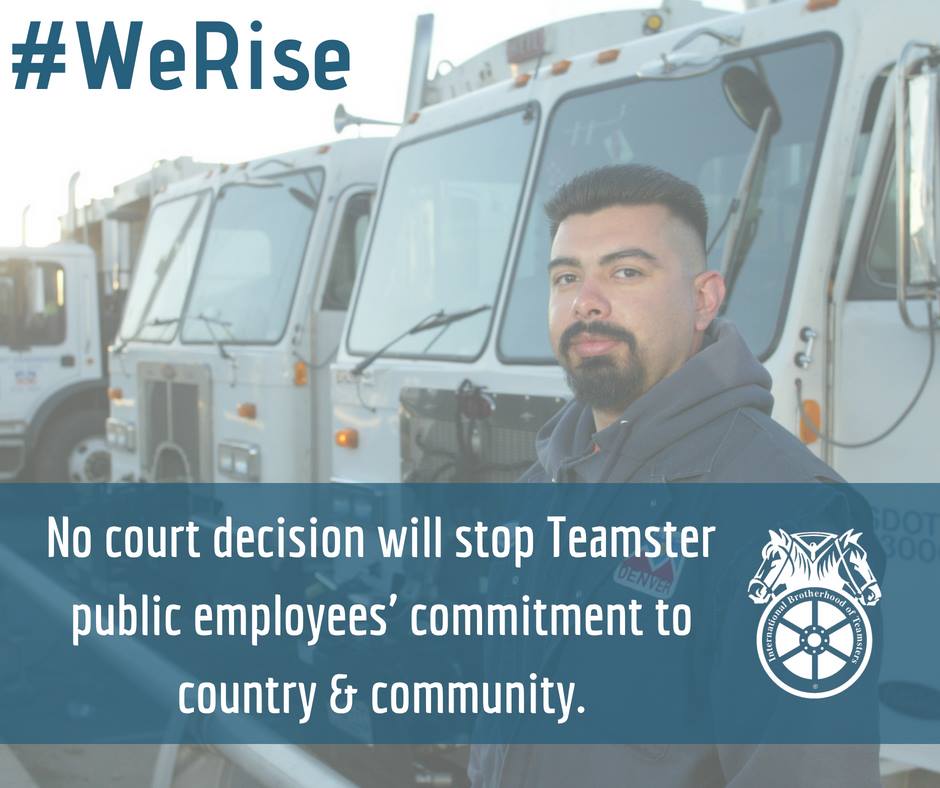 The Suburban Teamster Pension Fund that Local 673 belongs to has improved greatly, but unfortunatly for other Locals across the country this is not the case. The Butch Lewis Act had been introduced to help protect Pension Plans. Lets do our part to help our fellow Teamsters by calling your Congressman and Senators and asking them to Co-Sponsor this bill!! For more details, click the picture below.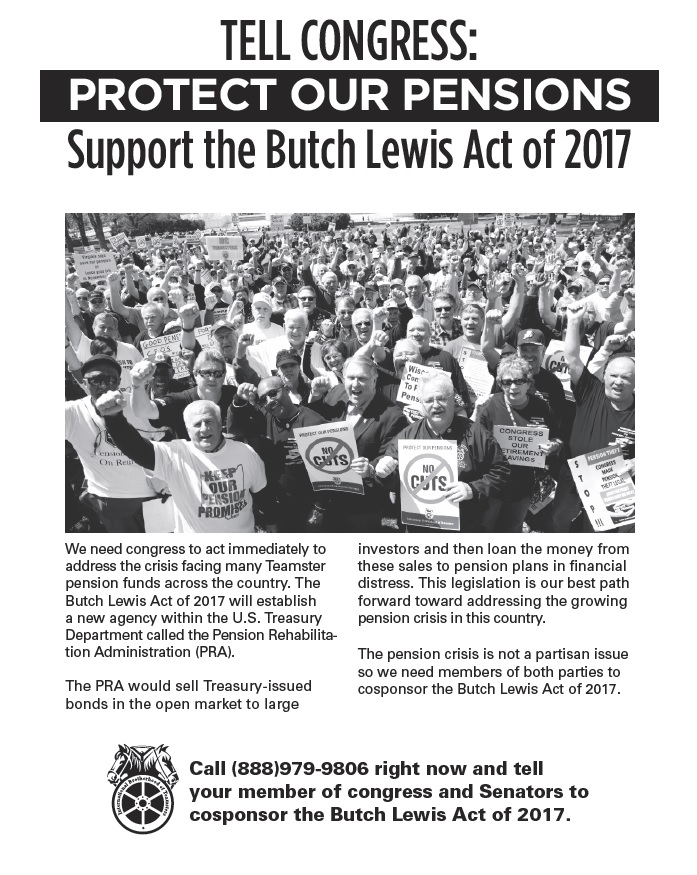 With anti-worker lawmakers in DC pushing national right-to-work (for less) legislation, the stakes are higher than ever for the labor movement and working families. We need all Teamsters and working people to join the fight against the renewed assault on collective bargaining and workers' rights that is taking place on a national scale. Tell your members of Congress right now that they must oppose H.R. 785 and any other attacks on our rights!
Click banner below to send your Representative a form letter OPPOSING National Right to Work legislation!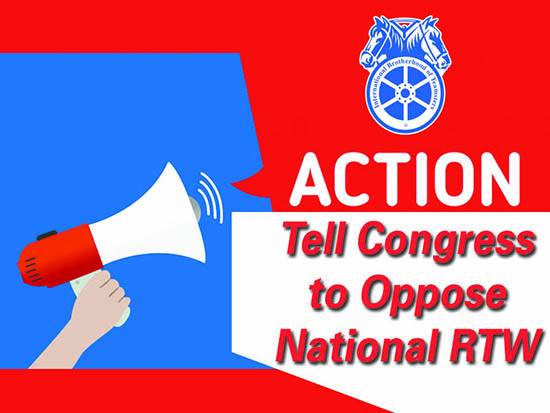 Teamsters Increase Strike Benefits!!
By unanimous vote from the Delegates to the 29th International Convention
Teamsters General President Jim Hoffa and General Secretary-Treasurer Ken Hall today announced that strike benefit increases approved by delegates to the 29th International Convention became effective on July 1, 2016. Under the new constitutional provisions, which were unanimously approved by delegates on June 30, 2016, the changes raise strike benefits, increase minimum benefits and allow for benefits to begin earlier than in the past.
"Our strike fund has more than doubled in the last five years," Hoffa said. "We want to ensure that our members are getting the benefits that they deserve when forced out on strike."
Teamster members will receive benefits that are based on five times their hourly dues rate, a 25 percent increase from four times the dues rate. The minimum out of work benefits will rise to $150 per week, an increase from $100. And, benefits will be paid at the end of the 8th day, previously paid at the end of the 11th day.
"We have built our strike fund to more than $153 million," Hall said. "We have the resources to take on any employer, anywhere, at any time."
The improvements, with the exception of the hourly increase, also apply to newly organized members who have voted for the Teamsters and designated the Union as their bargaining agent, but do not yet have a contract.